Salomão Alencar de Farias, Editor-in-chief, professor at UFPE/PROPAD, Recife, PE, Brazil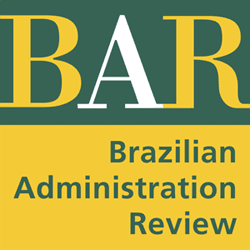 We are proud to present the first issue of BAR – Brazilian Administration Review, vol 15 n1, and we hope you find it interesting and informative. We also present in this edition the reviewers, Action Editors and Associate Editors that helped us during 2017. BAR could not be possible without your volunteer and relevant work. We hope we can continue to count on you in 2018, always raising the BAR! Let's now turn our attention to the five quality studies that comprise this current issue.
The first article "Exploring Risk Perception and Degree of Internationalization of Brazilian Small-and-Medium Enterprises" by Leandro Rodrigo Canto Bonfim, Gabrielle Ribeiro Rodrigues Silva, Paulo Henrique Müller Prado and Gustavo Abib, investigates managerial risk perception regarding internationalization of small and medium-sized enterprises in the Brazilian context. Results suggest that managers' tolerance for ambiguity is only significant for explaining risk perception for the managers with a preference for a deliberative style and that the investigated Brazilian SMEs presented a higher degree of internationalization even when their managers perceived higher levels of risk.
The second article "The Relationship between Sentiment and Risk in Financial Markets" by Ana Luiza Paraboni, Marcelo Brutti Righi, Kelmara Mendes Vieira and Vinícius Girardi da Silveira, estimates association coefficients between measures of market sentiment and risk in the U.S., German and Chinese markets. Authors concluded that observations of market sentiment as measured by social media data show a consistent relationship with measures of financial risk. These results corroborate, in terms of decision making, the findings of Charoenrook (2005) and Yazdipour (2011), among others. Nonetheless, the results conflict with those obtained by Andersen and Nowak (2013), who argue that the relationships should have signs that are the inverse of those that we have found.
The third article "Sponsor Bias in Pension Fund Administrative Expenses: The Brazilian Experience" by Claudio Marcio Pereira da Cunha, investigates sponsor bias, hypothesizing that it may originate from the omission of relevant control variables, specifically variables for location of headquarters and the level of outsourced services. The findings did not support the hypothesis of political bias in administrative expenses of Brazilian closed pension funds, but that the sponsor bias may be driven by characteristics of the pension funds omitted in previous literature.
The fourth article "Cultural Meanings and Consumers' Discourses about Their Brand Abandonment" by Fillipe Diniz and Maribel Carvalho Suarez, investigates consumers who abandoned previously consumed brands in two distinct product categories, soft drinks and automobiles. The analysis illustrates cultural discourses that consumers use to give meanings and socially negotiate their brand abandonment. It presents three types of brand abandonment: (1) contingent, (2) balanced and (3) aversive.
The fifth article "Responsible Leadership Research: a Bibliometric Review" by Tânia de Matos Gomes Marques, Nuno Rosa Reis and Jorge Gomes, analyzes the use of responsible leadership in management research. Using a sample of 64 articles published in SSCI-indexed journals over 10 years (2006-2016). Six distinct factors have emerged, denoting the groups of studies devoted to the evolution of leadership, transformational leadership, stakeholder theory and leadership, conceptualization and understanding of the topic, and roles of responsible leaders. Concerning the most influential works on responsible leadership, the article from Maak and Pless (2006) has been cited by almost half of the sample, therefore showing its centrality in the field.
We hope that you will find the articles interesting to help with your learning experience and future research use.
References
ANDERSEN, J. V., and NOWAK, A. (2013). An introduction to socio-finance. Berlin, Heidelberg: Springer. https://doi.org/10.1007/978-3-642-41944-7
CHAROENROOK, A. (2005, June). Does sentiment matter? [Working Paper number 3301937]. Olin Business School, Washington University in St. Louis, USA. Retrieved from https://apps.olin.wustl.edu/workingpapers/pdf/2008-12-003.pdf
MAAK, T., and PLESS, N. M. (2006b). Responsible leadership in a stakeholder society – A relational perspective. Journal of Business Ethics, 66(1), 99-115. https://doi.org/10.1007/s10551-006-9047-z
YAZDIPOUR, R. (2011). A behavioral finance approach to decision making in entrepreneurial finance. In R. Yazdipour (Ed.), Advances in entrepreneurial finance: With application from behavioral finance and economics (pp. 11-29). New York: Springer. https://doi.org/10.1007/978-1-4419- 7527-0_2
o read the articles, access
BAR, Braz. Adm. Rev. vol.15 no.1 Rio de Janeiro  2018
External link
Brazilian Administration Review – BAR: www.scielo.br/bar
Como citar este post [ISO 690/2010]:
FARIAS, S. A. BAR – Brazilian Administration Review presents interesting discussions within the field of Business Administration [online]. SciELO in Perspective: Humanities, 2018 [viewed ]. Available from: https://humanas.blog.scielo.org/en/2018/05/09/bar-brazilian-administration-review-presents-interesting-discussions-within-the-field-of-business-administration/