Vera Menezes e Andrea Mattos, Editor-in-chief from Revista Brasileira de Linguística Aplicada, Belo Horizonte, MG, Brazil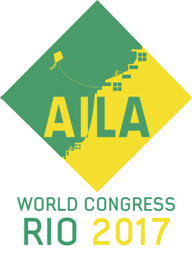 "Every three years AILA holds its International World Congress. This congress is the biggest event in Applied Linguistics, bringing together – usually more than 2,000 – researchers and practitioners from all areas of Applied Linguistics for five days.
The Congress is characterized by high level presentations and discussions on key issues of the field. Its format includes keynote addresses, plenary speeches by outstanding scholars, invited symposia, symposia, individual papers and poster presentations." (http://www.aila.info/en/congresses.html)
The first AILA Congress was held in France, in 1964, and in 2017 it will be in Rio de Janeiro, Brazil, organized by ALAB (Associação Brasileira de Linguística Aplicada). It is the first time the AILA Congress is held in South America.
See more at http://www.aila2017.com.br/index.php/en/
The journal Revista Brasileira de Linguística Aplicada will release, in 2017, a special issue whose theme is " Innovation and Epistemological challenges in Applied Linguistics", the same of the 18th AILA World Congress of Applied Linguistics – AILA – that will take place, in UFRJ, from July 23rd to 28th, 2017.
Researchers interested in submitting papers for this edition must do it no later than 05/30/2016. For further information, please, visit the journal website:
http://periodicos.letras.ufmg.br/index.php/rbla.
Foreign researchers who would like to submit their papers may contact the journal directly through the e-mail rblasecretaria@gmail.com for further information.
External links
Revista Brasileira de Linguística Aplicada – RBLA: www.scielo.br/rbla
AILA: http://www.aila.info/en/congresses.html
Como citar este post [ISO 690/2010]:
MENEZES, V. and MATTOS, A. AILA Congress is brought to South America [online]. SciELO em Perspectiva: Humanas, 2016 [viewed ]. Available from: https://humanas.blog.scielo.org/blog/2016/05/03/aila-congress-is-brought-to-south-america/